We are a family run garden centre and furniture store located in the pretty harbour village of Birdham near Chichester, Russells can be found on the road to West Wittering beach.
Alongside our extensive range of garden sundries, outdoor furniture, plants and BBQs we also have a beautiful lifestyle store offering quality furniture, interior furnishings and unique gifts and cards – not forgetting our huge collection of the world-famous Jellycat plush animals!
Charity, community and sustainability are key watchwords for us and since winning Chichester District Councils "Green business of the year" back in 2004 we have picked up several accolades for our sustainability.
Russells was established 77 years ago and  has grown so much since we took the reigns 27 years ago in 1996, with the help of our great team of staff and the encouragement and support of our customers it has been transformed from a humble nursery into a home and garden destination.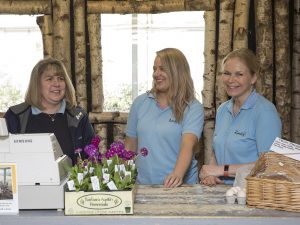 looking forward to meeting you soon,
Lesley, Richard and the Russells team